All That Counts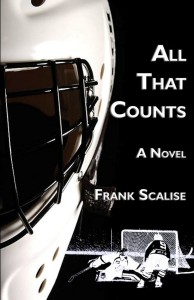 All That Counts is a novel about life and a man's discovery about what is truly important in it.
Graham Wilson is a thirty-something recreational hockey player who decides to follow a long-held desire to become a goaltender. His transition is both comedic and inspiring as he seeks to challenge himself in the midst of a mundane life. Also on display is the curious paradox of the recreational game in North American culture (i.e., it means everything, but it is only a game, but it is more than a game, but…). When his team's regular goalie leaves, Graham steps unsteadily into the crease, causing conflict on a team that is used to winning.
Graham's journey is a microcosm of life. Humor, inspiration, camaraderie, love and spite all make their appearances both on and off the ice as Graham struggles to learn what truly is "all that counts."
Where to Get It: You may purchase All That Counts directly from Createspace, via Amazon, Barnes & Noble or any other book outlet. It is also available as a Kindle ebook only. It is also available as an audio book at Amazon, Audible.com or iTunes.
The audio book is narrated by Dan Czerwonka, who does a splendid job of capturing not only the main character in Graham Wilson, but all of the supporting characters as well. Dan makes you feel like you're living this book, not reading it.  All That Counts Audio Sample
Here's a sample that includes the few chapters of All That Counts.

What they're saying about All That Counts:
"All That Counts is a must read for anyone who has ever laced 'em up. The locker room banter combined with the on ice antics are so true at all levels of hockey. The book made Eagles Ice Arena come alive in my hands. I can visualize the walk down the stairs and going down onto the ice. Nothing's better in recreational hockey after the game than a cold shower topped off with a cold one. Frank does a great job combining the real life and on ice drama. No hockey fan should miss out on this entertaining read."
NHL Head Coach Bill Peters, Carolina Hurricanes
(Spokane Chiefs, 1996-97, 1999-02, 2005-08)
"With a nod toward Spokane's long puck tradition, All That Counts is a book about life and hockey that will you will love. Will Graham's vision quest is something we can all understand and cheer for and his inspiring journey reveals the wonder and absolute joy that hockey brings into this world."
Mark Rypien (NFL Quarterback and Superbowl XXVI MVP)
"All That Counts is full of hard-hitting hockey action, great locker room banter, lots of laughs and realistic, touching relationships. Players at all levels, hockey fans and newcomers alike will enjoy this Spokane hockey tale.  Scalise really captures how hockey is a one of a kind sport that brings people together in a way that can't be explained until you slap some skates on and see it for yourself."
Former NHL Player Cam Severson (Spokane Chiefs, 1997-99)
"All That Counts by Frank Scalise is an intriguing read for any avid hockey player, hockey fan, or sports fan alike. His ability to incorporate the intangible, unique elements of hockey with the always changing aspects of life outside of hockey provides an exciting read from cover to cover. Frank's writing style provided an easy read, as well as keeping me hooked until the very end. People will be able to draw connections to their own lives through Graham's experiences. I enjoyed the story, and would recommend it to anybody that enjoys sports and good books."
NHL Player Derek Ryan, Carolina Hurricanes
(Spokane Chiefs, 2003-07)
"Scalise knows what counts…from that insatiable itch that draws a wannabe goalie to the crease and into the inevitable struggles that come with the job. He's captured the essence of goalkeeping in so many ways: the first infuriating attempt at strapping on the pads, the never-ending study of the game, and agonizing over those big, blazing scoreboard numbers. The reader grows convincingly with Gray through his self-doubt, embarrassment, and finally to the grains of confidence which soon pile up into a mountain of swagger that separates the goaltender from the rest of hockey. As I read this book, I can smell the stink of used gear, hear the crunch of steel blades on a fresh sheet of ice, and feel the thud of a hard shot well stopped. But while Scalise is obviously at ease in the Rangers' raucous rec league locker room, he is not the least bit afraid to peel off the stinky gear and expose Gray's tender side while he and his wife embark on a life-altering journey. Scalise shows us that what's on the scoreboard is truly not all that counts."
Jill Maser
Goaltender, University of Pennsylvania (retired), author of the romance novel, Red Passion
"This was a great book. It really highlights the challenges of a new goalie and how to work through them."
Brad Moon
Former WHL goaltender
Reviews:
"I not only have no interest in hockey, I even disapprove of heavy-contact sports–but I couldn't put this book down. I was attracted by the title, and I am delighted to have read this book. The author sets some very human issues securely in some fun action scenes. Without giving away any parts of the plot, I'll just say that it is very well-written and touches on important points about life while effectively painting an absorbing picture of playing rec-league sports!"
Ann Baker, from a 5-star Amazon review
"I didn't start playing ice hockey until age 13, and finally hung up the dented skates at 40. The first coach put me in goal because I couldn't skate well enough to play anywhere else, but after all the years, bruises, stitches on the forehead and goals scored against, I still wouldn't play any other position. Are goalies crazy? You bet!
From the first quote on page one, Frank Scalise brought back all the memories–the ribald and profane locker room talk, the bruises to both body and ego, the struggle to find one's own "style," (Terry Sawchuk was my idol,) the tight focus on the next save, the agony of the sure knowledge that every loss is the goalie's fault–it's all there. There's also the thrill of a great save, the satisfying "thunk" of a hard shot caught on the pads, the smirk when you outsmart the shooter. Scalise tells it all. If you've never played the game, read this and you'll see why some of us, believe it or not, want to stand in the way of a projectile headed our way at 80 mph.
Oh, and the ending is something you won't forget for a long time!"
Gail P. Leatherwood, from a 5-star Amazon review
"…a heartwarming and funny story about hockey and one man's pursuit of a lifelong dream…[b]y showing some of the ways that "hockey is life", Scalise has written a book that will give people a lot of positive things to think about."
Brian Triplett, Examiner.com