The Hardest Hit
Sam the Hockey Player #1  (Pee Wee)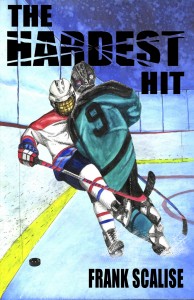 Eleven-year-old Sam Parker is a hockey player entering the first year in which body checking is allowed. His natural fear of getting hit is temporarily overshadowed by finding out his parents are getting divorced. Determined to keep them together by being a hockey superstar, Sam instead suffers a bone-crunching check from the school bully in his first game of the season. The resulting pain and fear brings out the worst in Sam as one difficulty after another piles on. Even his best friend, Jill, doesn't always seem to understand what he's going through. Sam has to learn how to get up after life knocks you down – both on and off the ice.
Where to Get It:
Paperback: You can get a copy of The Hardest Hit directly from CreateSpace, Amazon, Barnes and Noble, or any other outlet that sells books. ISBN-13: 9781463550059
Ebook: You can get a Kindle, Nook, Sony, Apple (download the app) or other version of The Hardest Hit.  ISBN 9781465885074
Here's a free sample of The Hardest Hit!